An all-male high school in Lexington, Ky., recently committed to providing agricultural education through both FFA and Minorities in Agriculture, Natural Resources and Related Sciences – a national collegiate society better known as MANRRS. As a result, students are finding new opportunities to learn, grow and give back.
Housed within Frederick Douglass High School, Carter G. Woodson Academy is a college preparatory school for young men in grades six through 12 with a rigorous educational program taught through the lens of African-American history and culture. According to Jacob Ball, agriculture instructor and FFA advisor at Carter G. Woodson Academy, the 2019-20 academic year was the first time the school's curriculum included ag education, and Ball has taken a unique approach to inspire students to get involved both inside and outside the classroom.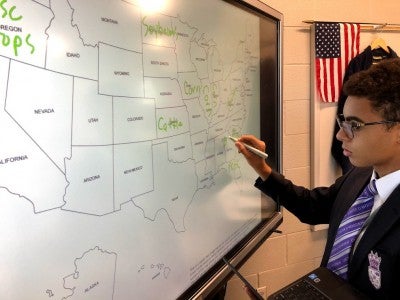 "We have established the Carter G. Woodson Academy FFA and are following the National FFA Organization model of growing leaders, strengthening agriculture and building communities, while also adding components of the Jr. MANRRS program, an arm of MANRRS that raises cultural awareness and helps get kids in grades seven through 12 excited about careers in agriculture," Ball says. "We're essentially blending the two, which makes sense because they have so much in common, and it gives us more ways to ensure we are connecting students with men and women of color in the agriculture industry. That's important because 85 percent of our student population are African-American and 13 percent are Hispanic."
In short, FFA and Jr. MANRRS go hand in hand at Carter G. Woodson Academy. Students can participate in all that FFA has to offer, including supervised agricultural experiences and career and leadership development events, along with reaping the rewards of the Jr. MANRRS program. Those rewards are enhanced through a partnership with the University of Kentucky MANRRS Chapter, ranked National Chapter of the Year for the seventh consecutive year in 2019.
"Thanks to MANRRS, many of our students have had the opportunity to conduct research with professors in the University of Kentucky College of Agriculture, Food and Environment and to present their projects to community members," Ball says.
The school's FFA program has strong local support, too. The chapter received a $5,000 Rising Sun Grant from the Kentucky FFA Foundation to purchase official jackets and related supplies, just in time for members to attend the 2019 National FFA Convention & Expo.
"We're just getting started, but we've already done so much," Ball says. "Less than a year in, our FFA chapter has 24 members with Discovery Degrees and 21 members with Greenhand Degrees, and we have big plans for the future. We are excited to see how FFA and Jr. MANRRS can complement one another and how we can lay the groundwork for future growth and success."
To learn more about MANRRS, visit https://www.manrrs.org/.
The post Kentucky School Grows Student Opportunity With FFA and MANRRS appeared first on National FFA Organization.