Registration is now closed.
Registration includes full access to all interactive and on-demand activities via the virtual event platform. Live general session broadcasts will be available without paid registration.
Registration for chapters/groups is offered in tiered, flat-rate pricing based on total individuals participating from each chapter/group. (See below for registration options for alumni, supporters, sponsors and donors.) For convention events designed for individual participation, an access code will be required for each device. The access codes will be provided by the registration process based on the total individuals selected.
Example: A chapter with 35 members attending would select Tier 2 access. See below for registration activation instructions.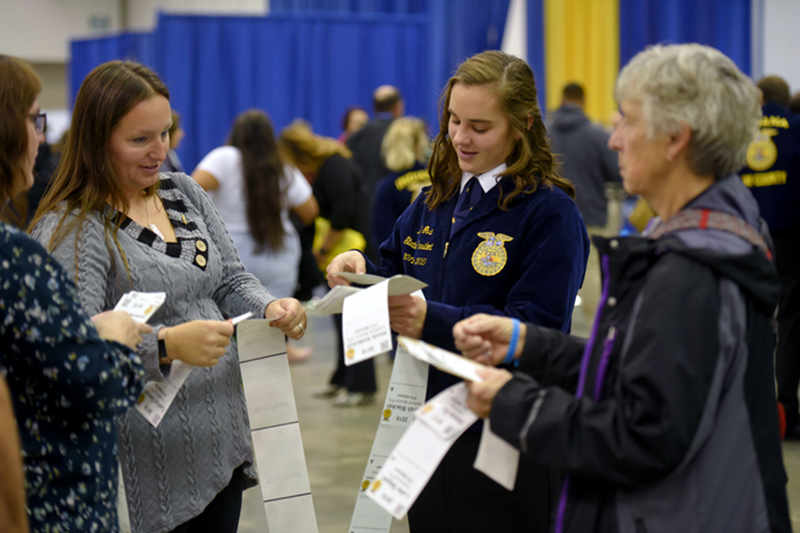 | Registered Attendees | Tier | Total Cost |
| --- | --- | --- |
| 0-29 | 1 | $50 |
| 30-47 | 2 | $100 |
| 48-72 | 3 | $150 |
| 73-126 | 4 | $200 |
| 127-499 | 5 | $250 |
| 500+ | 6 | $300 |
Credit Cards Required for Registration
Credit cards will be the only accepted payment type when registration opens. This applies to all registration types and tiers, including chapters and states.
If a registering group has no access to a credit card for this purchase, we recommend purchasing a prepaid Visa or Mastercard gift card equal to the expected registration cost. Prepaid Visa or Mastercard gift cards may be used during the registration process. The prepaid gift card could be reimbursed from school funds, covered by an advance collection of funds from participants, or purchased by a chapter's local alumni/supporter group.
Limited Inventory Registration Items
There are no limited inventory items offered in the registration process. Simply complete the registration process prior to Oct. 26 for the best experience.
Chapter Registration Activation
Once registration is complete, chapters will receive a confirmation email with a registration code and link to the virtual platform. Activation instructions to get into the platform will be included in the confirmation email.
You must use this code to activate all participants in your chapter/group. Provide the registration code and link to the virtual platform to each person attending within your group. Each person must click the link, enter the registration code and provide their name and their email address. The same email address cannot be used for more than one person.
Important: Complete this activation process before Oct. 26 for the best experience.
Each person will then only need to click on the virtual platform link and enter their name and email to log in each time they come back to participate in the virtual event platform.
Alumni & Supporters Registration
Registration access for National FFA Alumni & Supporters to access the virtual event platform will be $20 per person. Registration will open Sept. 22 at 6 p.m. EDT.
Sponsors & Donors Registration
Registration information for sponsors and donors to access the virtual event platform will be sent via email from the National FFA Foundation. Registration will open Sept. 22 at 6 p.m. EDT.